Alipay, a Chinese third-party payment platform, is one of the most popular apps in China and can be used for purchasing goods and services. Alipay has basically become the necessary app in everyone's mobile phone in China. Alipay is very prevailing in China, and you can use your mobile phone to make purchases anywhere in China, whether it is large shopping malls, hotels, supermarkets, restaurants, or street stalls.

What You Can Do With Alipay?
WeChat Pay and Alipay are the top two online payment processing apps in China. For foreigners, WeChat has many advantages than Alipay. However, it is worth to use Alipay as some places you can only use Alipay.
Transfer money to other Alipay account and to bankcards.

Top-up yours or any other person's mobile.

Use interestedly with Tmall, Taobao, Didi Taxi and many other services.

Send and receive Red Packet during special occasions.

Pay utility bills and pay for purchases by scanning the QR code.

Add friends, chat with them and send or receive money and Red Packet.
This post is to guide you to set up and the alipay and guide you to some most important features of it.
Download, Sign up, Set up

You can download it from appstore and sign it up with a mobile number and set up you account (or you call it verification) by adding a bank card into the alipay. This step will require the alipay mobile number and the number which you applied for bank to be exact same. After you verified, you will be able to use alipay.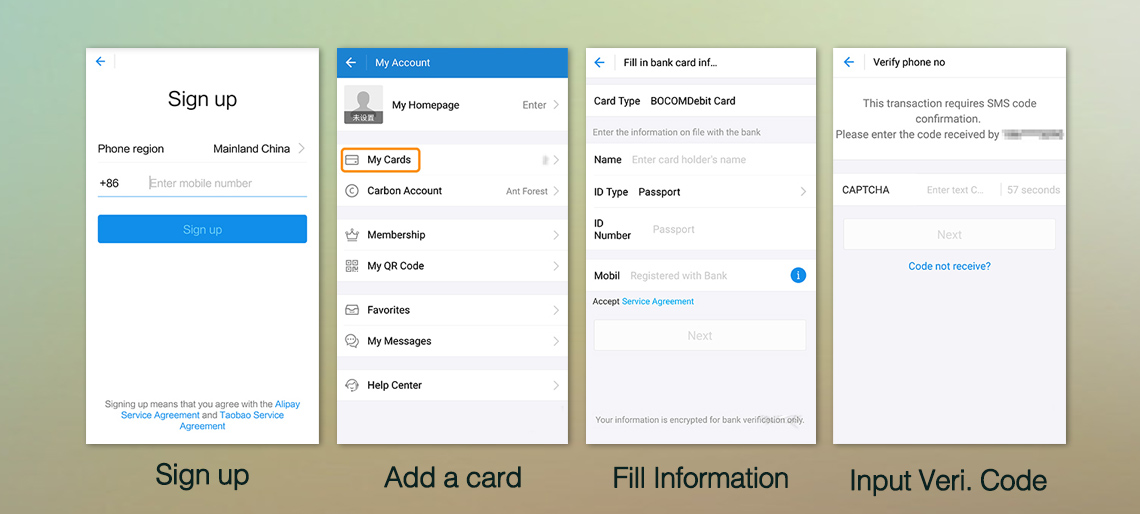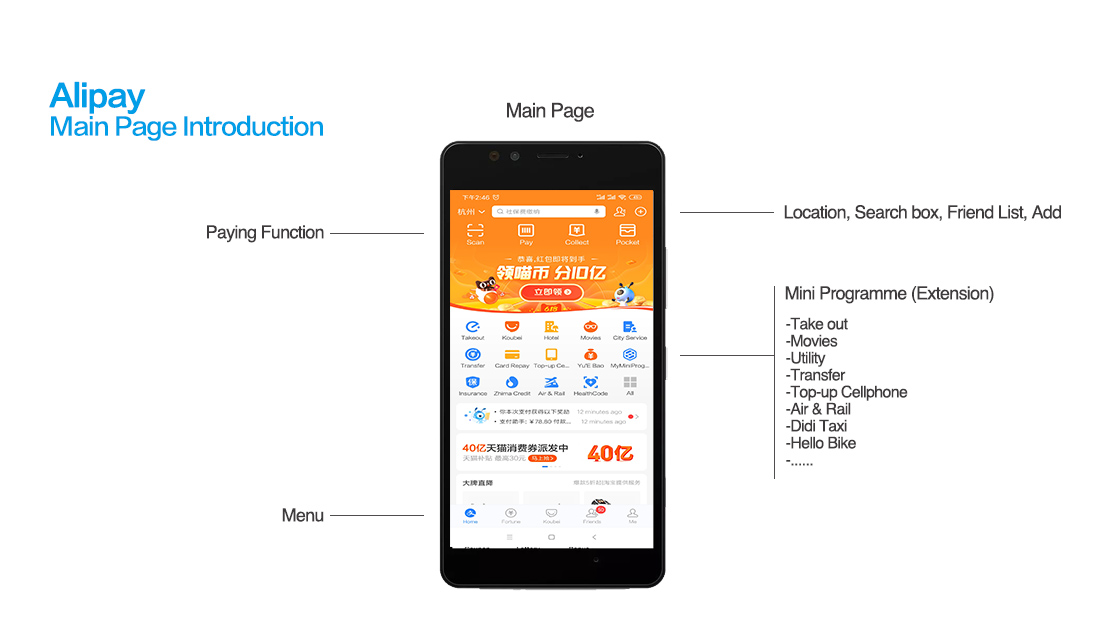 The header bar there is a search box, you can use it to search the mini programs. The friend icon allows you to add your new friends which allows easier fund transfer. You can add a friend by scanning their qr code or by using their mobile number. In the "+" icon there is a fast access to the transportation code, which you can use for the scanner on buses or metro tolls.

Tap "Pay" and show your QR code to cashiers, and they will enter the amount and scan your code. The process is complete, and your expense will be deducted from your account Alipay automatically. And you will get the SMS that notifies your expense immediately if it's paying from your bank and your bank has SMS notification service.

However, things will go different sometimes. You can find people scanning vendors' code for payment. How is that going? It generally occurs that the vendor displayed the receiving code of their Alipay accounts. And consumers scan the code and they will find the name of the vendor and then they have to enter their expense amount and input your payment password, you will be directed to a successful payment page on your mobile device.

If the vendor or friend offers his Alipay account instead of a QR scanner or receiving QR, how can you conduct your payment? Take it easy. You can also transfer money to the others' Alipay account. Click "Transfer", you can choose to whom you want to transfer your money including your friends, Alipay account, or bank card. If you choose to transfer to Alipay account, you have to enter relevant Alipay account, and confirm his name, and enter the amount, you will get the payment details, you have to confirm the details, and it goes right, click " Pay now" in blue button, and then input your payment password, and finish the payment.
Mini program provides aeasy access for you to use other app, which you may not need to download the full app. However most of the mini programs are not in English .

Will I be able to use alipay if I don't have China local bank card?

Yes, you can apply for alipay, then you can use the "Family Center" function to bond your alipay account with your family member who has local bank. In this way you will be able to pay directly from his/her balance.

How do I get code for bus/metro toll machines?

Click "pay" - "select transport code" and add the cards for the metro and bus. It will show a qr code when you open it.

For metro, you will need to show the code to the tolling machine when you get in and when you get out.

for bus, you will only need to do it one time when you board the bus.

How does "transfer limit" work

The bank will set a limit of your alipay transfer if you transfer from bank card and different bank sets different limits like 10-50k rmb/day.

However from alipay balance to alipay the limited is quite unlimited.
Any Commission by Alipay?

If it's alipay to alipay accounts, or pay from alipay/bank balance, there is no comission. Withdraw alipay balance to bank balance is 0.1% for each withdraw (given a 20,000 rmb free withdraw quota each year). Using VISA, Mastercard and JCB will ve charged 3% of your turnover.

Feel free to write to us at info@clydesdale.cn.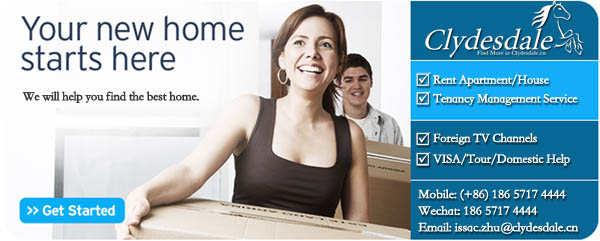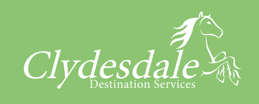 Clydesdale|help you find your
perfect home here

Click below "HERE" to see the "Ultimate Guide for new arriving expats to China" - to be updated!