Nowadays, car-hailing is the most popular and convenient way to travel, not to mention most foreigners who do not have a car in China. Among all the car-hailing apps, Didi is the top one without any doubt.
Surely, you could still try to wave your hand at the side of a road and a taxi may stop. But if it's bad weather or within rush hour, there's nearly no any chance to find a taxi without this app.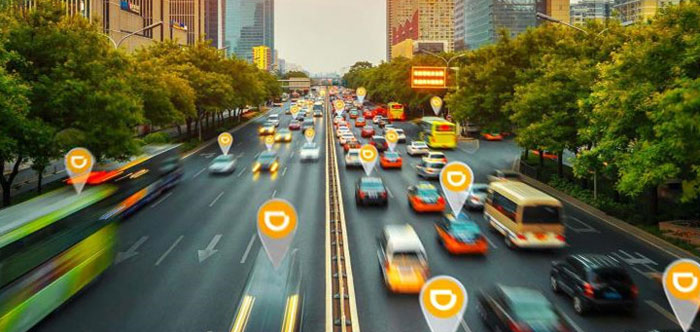 Let's get to know more about this app.
DiDi dache or DiDi chuxing (滴滴打车 or 滴滴出行) is the full name of this phone app. It can help call instant taxi service, but also do reservation. You can ask for different level of vehicles depending on your needs. One important point about didi is that it has English interface now.
There are two ways to find DiDi service:
l The first is to access the WeChat "wallet" section or Alipay "My apps". But here you won't be able to use the app in English, even if your Wechat or Alipay is displayed in English.
(The convenience is that direct payment is connected to Wechat/Alipay and you don't have to download the app)
l The second way is to directly use the app,
Use this link if you have an Android telephone, and this link if you're an iPhone user.
(The convenience is that you will have English interface by changing the language in Settings)
What you need to use/active Didi
To active your didi service/account, you'll need a Chinese cell phone number, which must be active and works. Because the drivers will identify you by the last four digits of your cell number, and will call you if they have any problems getting to you. Don't worry, you can always fake that you don't hear the phone call…
Moreover, the recent security system activated by Didi, the so-called DiDi Safeguard, makes a direct call to the closest police center and automatically notifies the emergency number you've inserted with a quick click. So your cell phone will be useful even if you run into an emergency situation
Then you you need to enter a method of payment that is one of the ones listed on DiDi, normally: Alipay, Wechat and a bank account
Obviously DiDi works on smartphones with a GPS system without a hitch.
If you've already used Uber, DiDi won't be difficult for you. It's like a local Uber (In fact, Didi had bought Uber's China Business for around 35 billion US dollars)
A. You'll have to enter your pick up location that corresponds to where the GPS shows your position, or using the address in either English or Chinese characters
(Always check, the App has several recommended picking-up locations but sometimes, they may be not the points you know or want)
B. Next, insert your destination, again using the address in either English or Chinese characters
(This is a more important step, so check the address in the map carefully since sometimes, the English address you got from others may be not accurate to the didi system)
C. Choosing the type of the rides you need. In, English interface, you will have 4 kinds.
Express: The cheapest among this four types, enough for daily life.
Premier: More private professional driver. They present themselves much better than the Express drivers and should guarantee you a more comfortable drive and a more popular service
Luxe: This is a top notch car with professional drivers that will greet you in uniform and white gloves.
Taxi: You can also call or reserve common taxi, which remain the primary means of subsistence in certain cities
D. Order it and wait for the car to pick you up
Different from calling a taxi, Didi system will always calculate the estimated trip cost, though it doesn't include unexpected diversions or excessive delays due to traffic. But this will definitely help you to figure out if the driver is cheating you, also once the trip has begun, on your App a navigation mode is activated that will show you the same road that DiDi is suggesting to the driver at the same time.
If you've changed your mind, cancel within two minutes of an assignment
E. Driver may call you or send you message through system to make sure to pick you up.
The drivers can contact you through DiDi's own messaging system: there are a series precomposed messages so that you can have an easy exchange without falling into a lost in translation situation.
F. Arrive and pay the cost
Mostly, you can pay through phone by the method of payment we set, but cash does still work.
G. Rate the service
I recommend that you always grade them carefully and honestly. If you're not satisfied with your trip, you can even avoid using the same driver in the future by clicking on the option that's on the bottom of the screen.
Is it safe o travel with didi in China?
Yes, it's considered safe to travel with Didi, even if there's been some incidents in the past. As China is such a big country, it's unavoidable.
Does passengers give tips to driver?

No, you don't need to give tip in China, the drivers don't expect any tip.

Can you use cash for didi?

Yes, as mentioned above, you can use cash if the car was booked via Didi.

Do the drivers speak English?

No, drivers are local Chinese, most of them do not speak English.

Is Didi working everywhere in China?

In most area of China, as long as there are taxi service, there is Didi.

Feel free to write to us at info@clydesdale.cn.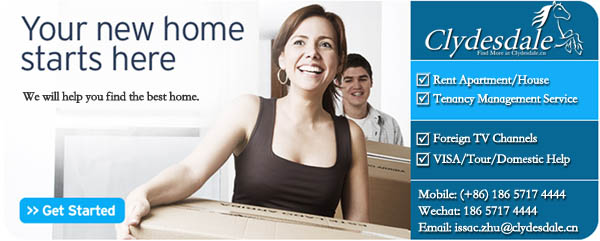 Clydesdale|help you find your
perfect home here

Click below "HERE" to see the "Ultimate Guide for new arriving expats to China" - to be updated!